Win What? The Georgetown University Energy Prize!
Cambridge residents are competing with 50 cities nationwide for a 5 million dollar prize. To win we need to reduce our energy use the most and we have less than two years to do it. The Georgetown University Energy Prize (GUEP) seeks to tackle the huge challenge of wasted energy, and Cambridge is in it to WIN IT! We need the best, most creative ideas to solve this problem and transform our community into the city of the future. 5 million dollars will help us make better places to live and work, save money, and improve our environment. But only one city will get the prize, and in order to WIN IT! Cambridge needs everyone to get involved. Every action counts. Here's how you can help us WIN IT!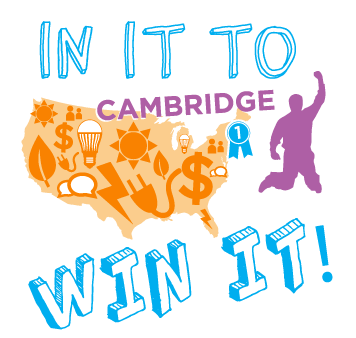 Questions about the Prize? Have ideas? Want to get involved?
Contact us at WINIT

cambridgema

gov (winit

cambridgema

gov)
Competition Info
How does the competiton work?
Cambridge is currently a semifinalist for the Georgetown University Energy Prize. The Georgetown University Energy Prize (GUEP) is a multiyear, multimillion dollar competition that challenges small- to medium-size towns, cities, and counties to achieve innovative, replicable, scalable and continual reductions in the per account energy consumption of gas and electricity.
Participating communities are collaborating with one another to advance energy efficiency for all. Only one community will bring home the Prize, but every community will win as they lower their energy costs, improve the comfort of buildings, and decrease greenhouse gas emissions from electricity generation.
Who's competing?
GUEP invited all cities and counties in the United States with a population between 5,000 and 250,000 to participate. More than 65 percent of the country—greater than 200 million Americans—live in cities and counties of this size, and the innovative approaches that emerge will lead the way for significant change that can impact a majority of Americans.
The 50 semifinalist communities hail from 26 states across the U.S. Not only do these communities come from across the map, they come from across the political spectrum, represent all socioeconomic strata, and include demographically diverse populations. Here is a map of the competing communities:
Each of the semifinalists have developed multi-year energy savings plans, in addition to assembling and securing signed commitments of collaboration from their local government, electric and natural gas utilities, and many community-based organizations.
What is Cambridge doing?
The City of Cambridge is collaborating with Eversource, business associations, local schools, residents, institutions such as Harvard and MIT, and others to develop an innovative and long-lasting energy saving plan, with a focus on the high tech sector, multifamily buildings, and community solar. See this blog post for more details. We're also ramping up our usual outreach on Mass Save home energy assessments. If you haven't had a home energy assessment yet, now is the time! Get started here. We're also seeking YOUR energy-saving ideas! See below for how to get involved.
In order to be the city that reduces its energy use the most, Cambridge is encouraging residents to sign up for no-cost home energy assessments through its Block Captains Initiative. A Block Captain is a friendly face that works with people in their social networks to help them sign up. These networks can include family, friends, neighborhoods, co-workers, classrooms, and schools.
Look to hear from your Block Captain during the 2016 year, and also consider becoming one yourself. Signing up is easy and activity is based solely on your level of capability. Participation is welcome at whatever level you are able to commit to. Sign up here!
What is the Prize timeline?
The GUEP was formally launched in April of 2014. In January 2015, the Georgetown University Energy Prize announced the 50 semifinalist communities, who will be competing through 2016 to reduce their energy consumption. 10 finalists will be announced in the spring of 2017. The winner of the Prize will be announced in fall of 2017.
Interested in getting involved?
There are many ways to participate in this effort, from just doing your part to reduce your energy use every day to sending in energy-saving ideas to actively encouraging others to reduce their energy use. We are currently recruiting Block Captains to help sign up Cambridge residents for energy assessments and get the word out about the Prize. If you're interested, sign up here! Please help us spread the word on Facebook and Twitter with #WINITCambridge. You can also check our blog to keep up with our news, and don't forget to use the menus at the top of the page to discover more ways you can save on energy costs. Contact Seth Federspiel at WINIT

cambridgema

gov (winit

cambridgema

gov) or 617-349-4674 with any additional questions or thoughts. We welcome your input!