Our sun provides us with an abundance of clean and renewable solar energy. Solar energy can be used to create electricity or to heat your hot water. Thanks to state incentives and community solar programs, going solar has never been easier! Check out these resources below.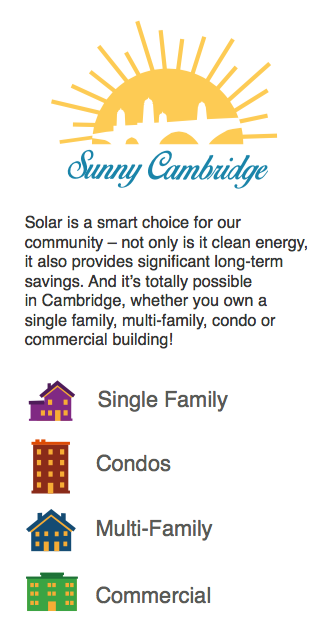 It's always Sunny in Cambridge!
Energy from the sun's rays excites electrons within the solar cells on a photovoltaic (PV) panel to create electricity. Output from the panels depends on weather and time of year, and at night or during extended cloud cover the building may revert to using electricity from the utility grid. There are a number of ownership and
financing
options available to help you get solar PV panels on your roof. Are you interested in solar PV? Go to
sunnycambridge.org
to request no-obligation solar quotes online for free, and check out our
solar guides
to help you get started!
Photovoltaic Ownership Models
Own Your Panels

Owning your own panels is more affordable than ever. If you own the installation, you will reduce or eliminate your electricity bill and you can sell your solar renewable energy credits (SRECs) every year for additional money. See our section on financing to view the many programs available to help you finance your solar investment.

Solar Power Purchase Agreement (PPA)

If your roof has good solar potential, many companies will install panels on your roof for little or no upfront cost. The company then owns, operates, and maintains the panels. In return, you agree to purchase the power generated by the panels at a set price, and the company receives the solar renewable energy credits (SRECs) that the panels generate. For more information about the costs and benefits of PPAs, view this reference guide.

Other Options

Check our current promotions!




Solar Installation Guides

The City of Cambridge has created these guides to help you through the solar decision-making and installation processes. The presentations from our Sunny Cambridge info sessions can also be found below. Check them out!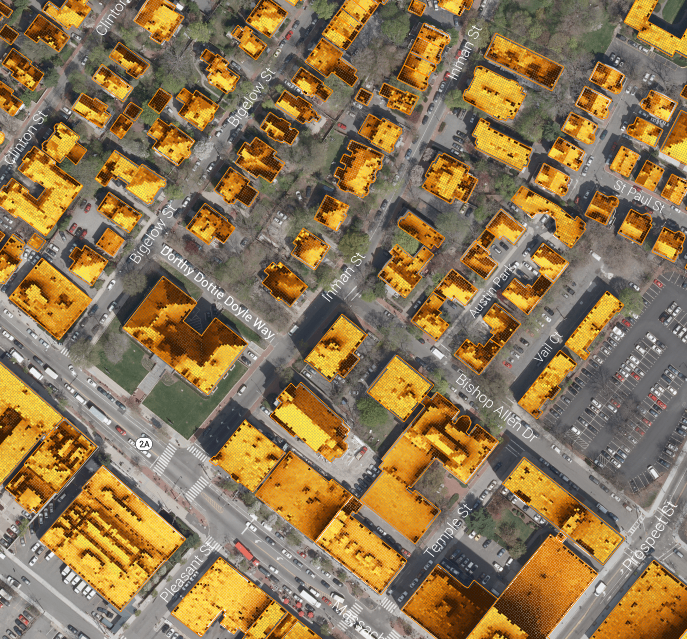 Sample Heading
Check Your Solar Potential
Get an estimate of your building's solar energy potential using Cambridge's interactive solar map. Developed by Mapdwell, a collective of MIT academics and professionals, the map allows users to click on a given property to learn its solar potential, including financial implications.
To learn how to use the map, see this easy-to-follow video by MoDe Studios.
Check out this article from the Atlantic CityLab to learn how the map was made.

Solar Hot Water
Using the sun's energy to heat your domestic hot water is clean and economical. A passive solar hot water system (also called solar thermal) warms a large volume of water in a sunny spot (such as a roof) and gravity feeds the warm water into the hot water heater for storage without the use of pumps or controls. An active system uses pumps to continuously pipe water through large panels that concentrate the sun's rays and quickly heat it.
A direct system is the simplest—the water warmed by the sun is the same water used for bathing and washing clothes. An indirect system involves an additional step—the liquid warmed by the sun flows into a heat-transfer unit where it warms the cold water as it flows into the traditional hot water tank. The warming solution can also be water, but an anti-freeze solution is preferable in cold climates because it won't freeze.
Community Shared Solar


Tried to go solar but can't? Community Shared Solar (CSS) is a co-operative solar model that helps bring solar to those who typically wouldn't have access to it, such as renters or any households without enough rooftop sun exposure. CSS allows customers to buy into an off-site system and receive credits on their utility bills. Customers can purchase as much or as little solar energy as they want, and they don't have to worry about installation or maintenance. Check our current solar promotions for community shared solar projects in the area.
Cambridge's Solar Capacity
Have you ever wondered how much solar capacity Cambridge has? Now you can explore solar's growth in Cambridge over the past 20 years!
Are you next? Start receiving quotes today at Sunny Cambridge!
Solar Finance


Mass Solar Loan provides new financing options for Massachusetts residents and homeowners to directly own solar installations. The $30 million program provides funds to banks and credit unions to create residential solar electric project loans that give more individuals the option to own solar. Mass Solar Loan enables lenders to provide low interest rate loans and make loans available to moderate income and lower credit score borrowers. It also provides subsidies of up to 30% of the installation cost for income-qualified households.
Homeowners interested in the Mass Solar Loan program can visit their website to find a list of qualified program installers and lenders.
Solar installers must qualify to participate in the program and should email solarloan

masscec

com for more information. Interested installers can register on the Mass Solar Loan application portal here. Visit the website for a walk-through of the registration process and a webinar on how to enter technical applications in the application portal.
Banks and credit unions must qualify to participate in the program and should email solarloan

masscec

com for more information and for training on the Mass Solar Loan application portal.
To learn more, please visit the Mass Solar Loan website and read the final program documents. Further information on financing options for residential solar, including loans, leases, and PPAs, can be found in the Massachusetts Homeowner's Guide to Solar Financing.
Current Solar Promotions

Relay Power
Cambridge is currently partnering with Relay Power, a Boston-based company that specializes in community solar, to help people who can't get rooftop solar. Anyone who pays an electric bill can subscribe to Relay Power's new community solar garden in Dover, MA. Participants pay nothing up front and save 10% on their electricity. After subscribing to the project, no further effort is required from you and the solar credits will be automatically transferred to offset your bill. The site is not constructed yet but will likely go live around May, and space is limited!
If you would like to talk to someone to learn more about the program and reserve your spot, please tell Relay Power you're interested here.
Solstice Initiative
Cambridge is currently partnering with Solstice Initiative, a local social enterprise, to help people who can't get rooftop solar. Solstice allows anyone with an electric bill to subscribe to a community solar garden in their neighborhood. There is no roof required, no cost to join, and participants will save 10% on their monthly electric bill.
We encourage Cambridge residents to consider this clean energy opportunity. There is limited space available in the nearby solar garden, so register your interest here. For questions, contact Sean Hutton at sean

solstice

us (sean

solstice

us) .
Resonant Energy's Solar Access Program
Cambridge is excited to be partnering with Resonant Energy, a company working to break down the financing barriers that can prevent residents with good solar potential from going solar.
Resonant Energy's Solar Access Program allows any building with a good roof for solar — regardless of the owners' income or credit score — to host solar panels in exchange for clean power and energy savings. Unlike a standard PPA, the Solar Access Program does not require cash payments or restrictive purchasing contracts.
Resonant Energy says about their program:
"Through our Solar Hosting Agreement, any household can lease their roof to Resonant Energy. We'll build a solar system on it, and give you part of the system's power output in the place of a lease payment. Project hosts typically see electricity savings in the range of 20% – 50%, which is two to five times higher than the savings offered under standard PPAs.
And if you're a renter? No problem. Resonant Energy will give half the savings to your landlord for letting us use the property, and half to you for participating in the project."
Learn more about this program and sign up here.