Find out about everything from purchasing renewable electricity through the City to installing solar panels for your business.
What is renewable energy?
Renewable energy comes from energy sources that renew themselves. The sun, wind, biomass and geothermal heat from the earth can all be used to generate electricity, heat water, and heat, cool and light your business in a way that is clean, safe, and sustainable.
What comes first, energy efficiency or renewable energy?
Consider pursuing energy efficiency first. Although a new hot water heater or extra insulation are not as glamorous as solar panels, they are more cost effective. In addition, should you then pursue renewable energy options, you won't need as large a system. The combination of efficiency and renewables is a great way to save money over time and reduce your carbon emissions.
Also learn about our Solar Hot Water Grant program here. Get money to help install a solar hot water system on your home or business.
Purchase Renewable-Generated Electricity
If you are an Eversource business customer, you can easily switch to renewable electricity through the City of Cambridge's official Cambridge Community Electricity program. Learn about the pricing options here and call 1-888-589-7790 to switch.
You also have the option of choosing a competitive supplier. Learn more about competitive suppliers here.
Install Renewables for Your Business or Non-Profit
The Mass Clean Energy Center runs the renewable incentives programs including Commonwealth Solar Hot Water and Commonwealth Wind. See the full list of programs and filter by programs for "businesses."
An experienced contractor can help you navigate the grant application and installation process. SEBANE and NESEA both offer directories of qualified solar installers, and NESEA's "green pages" also include contractors for wind, geothermal and more.
Solar thermal equipment (hot water and space heating), is an option that should not be overlooked. These systems can be an economical foray into renewable energy, and are generally eligible for the same property tax exemption of system-added value as most other renewable energy installations. Other generally applicable incentives include special depreciation under the Modified Accelerated Cost-Recovery, and a 30% corporate tax credit or alternatively a 30% grant for qualified properties.
Invest in Renewables for Others
You can invest in bringing more renewable energy to New England by making a contribution at New England Wind Fund, which helps local groups with the cost of renewable energy installations.
Paying for a Renewable Energy Installation
In April of 2010 CEA sponsored an event dedicated to informing the public about financing solar energy installations, and the presentations of several organizations in the field are available.
Find out more about federal, state, and utility incentives such as the grant program above through Commercial Building Tax Deduction Coalition and their Commercial Lighting Tax Deduction, or DSIRE. Our business financing page lists other programs and services which you may also be able to take advantage of.

Current Promotions
Resonant Energy's Solar Access Program
Do you have great solar potential (to check your solar potential, view our map) but are still worried about the up front cost of solar? Resonant Energy's Solar Access Program allows any building with a good roof for solar to host solar panels in exchange for clean power and energy savings. This is an especially good opportunity for Cambridge small businesses and non-profits.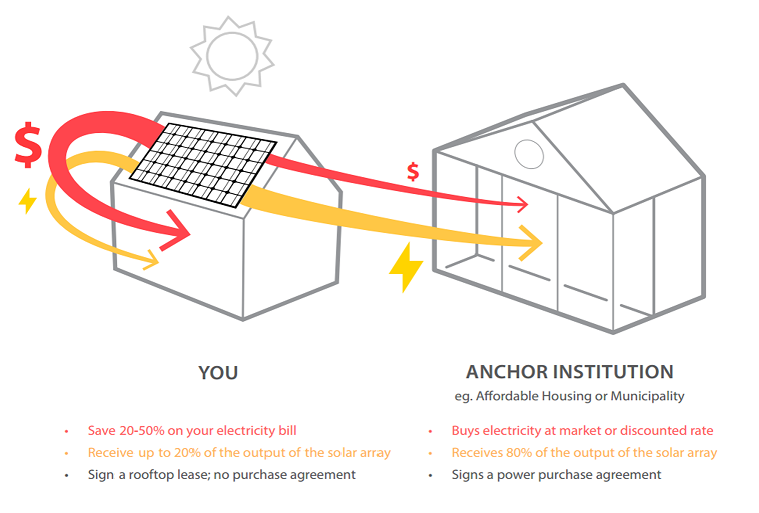 Resonant Energy says about their program:
"Through our Solar Hosting Agreement, any building can lease their roof to Resonant Energy. We'll build a solar system on it, and give you part of the system's power output in the place of a lease payment. Project hosts typically see electricity savings in the range of 20% – 50%, which is two to five times higher than the savings offered under a standard Planned Purchase Agreement (PPA).
And if you're a renter? No problem. Resonant Energy will give half the savings to your landlord for letting us use the property, and half to you for participating in the project."
Learn more about this program and sign up here.
Have questions?
Contact the Energy Advisor.